Ever since the breaking of COVID-19 last year, the negative impact of the pandemic has had on the economy was the only topic being discussed, as far as people are concerned. Many businesses and sectors are disrupted, more or less. However, there is a silver lining to occurrence as well, and that is the e-commerce online business. This should not come as a surprise, considering that it was trending for sometime before COVID came along. Both entrepreneurs and consumers have their heads turn towards this kind of business due to the growing digital world we are living in. It is fair to say that COVID-19 arrived at the right time to instigate the growth of e-commerce businesses.
 InvestMaN wants our readers to think of a different light on the COVID experience. Try looking at this incident as a crisis but also an opportunity in the making, the beginning of something new, by taking these growing businesses as an example of the new frontier of businesses.
 News source, Bangkok Biz, has revealed how the e-commerce business appears to be one of a few types of business to have been positively impacted by COVID compared to the overall Thai's economy. The e-commerce / online shopping business posted a value of 2.2 billion baht in 2020, an all time high. It grew by 35% in comparison to a year earlier. This was largely due to how Online trading has become an imperative part of everyday life, under the Work-From-Home policy.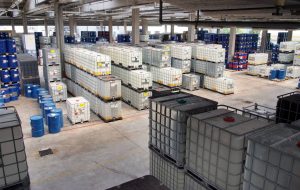 For this reason, another business benefiting from this new found trend is the logistics, factory and warehouse business. The continued surge of e-commerce sectors has created increasing demand for storage and warehouse spaces. Colliers International has stated that large operators are renting more than 100,000 square meters of warehouse and factory spaces despite the COVID impact on the business. This does not take into account an additional demand from international customers such as chinese entrepreneurs, heavily concentrated in the Eastern Economic Corridor area. These extra demands will likely result in the increase of rental prices for storage spaces. The significance of the rising price will mainly depend on the location. Warehouses in Bangkok can command north of 200 baht per square meter at present. Operators are already preparing to develop and expand more storage spaces and warehouses to cater the surging need in the market.      
People holding onto a piece of land, therefore, shall not overlook this type of business when planning on property development. Nevertheless, the important part of the process is an in-depth study of the project feasibility and site selection analysis, before executing any large development. With the rising value of this property type, some existing owners might be looking to sell their businesses for capital gain. Now, the question is how much is the gain?  Prospec Appraisal is here to provide services and consultation for warehouse valuation, which is classified as a large type of property, requiring appraisers with specific expertise in the area.
Source: Bangkok Biz