Recently, there has been an emerging news that has caught many people's attention reported by Bangkok Biz; the possibility of constructing a new bridge over Songkhla Lake connecting Songkhla and Phatthalung Provinces. At last, the Ministry of Transport has issued an update on the current status and progress of the project. InvestMaN would like to take this opportunity to inform our readers more about the brief details of this project.
Background story
          At present, along Songkhla Lake, there are two bridges connecting the 2 provinces; Cha-Lae Bridge and Chalerm Phrakiat 80th Anniversary Bridge. The former is old and deteriorated. Due to the long distance between the two bridges, spanning about 50 kilometers apart, people living in the area at the middle of the lake would take up to six hours to travel. Therefore, the local residents and local authorities have been calling for a new bridge to be built over the lake which would ease their convenience.
Project details
Connect between Koh Yai Sub-district, Kra Sae Sin District, Songkhla Province and Chong Than Sub-district, Khao Chaison District, Phatthalung Province. The total distance is not yet known.

Construction budget identified at approximately 3 billion baht.

The environmental impact study is currently underway and is expected to be completed by April 2021 before construction. 

The design is assumed to be a suspension bridge.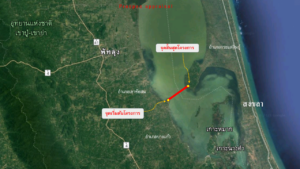 Thank you Google Map
Impact
This new bridge will be able to reduce the travel distance by more than 80 kilometers, reducing the travel time by approximately 2 hours.

Help promote tourism attraction of Songkhla Lake area for both Phatthalung and Songkhla sides.

Create more jobs and incomes for the locals.
        This project will definitely enhance transportation routes between the two provinces which have experienced an increase in the number of traveling vehicles in recent years. This is considered to be very good news for the people of Songkhla and Phatthalung. It has been a long time since the region has seen a project of this caliber. Let's also hope that it will help stimulate the tourism industry in both provinces which have so much to offer when it comes to tourist attractions with abundant natural resources.
Before going forward with the public project's construction of this magnitude, an in-depth study of the project feasibility must be performed in order to ensure the intended outcome, a possible impact on the environmental aspect. These studies include an analysis of the project location and site selection. Prospec Appraisal is happy to provide services and consultations for land appraisal or even business valuation for owners. Moreover, we also offer additional service on project feasibility study and site selection.
 Credit source of information : Bangkokbiznews