Based on Prachachat Business, Thai tourism industry is still far from recovery from damages done by COVID. Hotel businesses are not yet out of the crisis. It is estimated that there will be around 20% of the supply of hotels in 20 provinces that still rely heavily on international tourists.
However, due to the ongoing situation of COVID, tourists continue to be restricted from travelling across countries. In order to help soften the damage, the government has passed on a policy promoting domestic tourism, encouraging people to travel and spend in the country.
The Tourism Authority of Thailand (TAT) states that in 2020, Thai hotel businesses across the country were fighting for survival in which the average occupancy rate for hotels nationwide varied from low 27,87% to 29.62%.
When looking on a regional basis, the areas that were hit hardest was Bangkok region, with an average occupancy of just 27.28%. Meanwhile, the southern region of the country had seen an average occupancy of 21.43.%.
On the other hand, the central and eastern regions are not far better off. The area which seems to be least affected was the northern and northeast region, with an average occupancy rate above the crisis benchmark. This was explained by their primary customer base being the mainly domestic market, unlike other regions.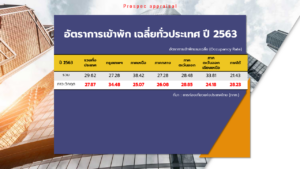 InvestMaN then takes our readers to see the current hotel business situation.
The competition for price war is as fierce as ever!
Since the latest lockdown was lifted, renowned luxury hotels of 5-6 stars have been lowering down their rate to attract guests. This negatively impacts the 3-4 star hotel, which not only has been affected by COVID, find themselve competing with luxury hotels.
New potential competitors have just entered the market.
Prior to COVID situation in 2017-2018, the growth rate of foreign tourists was surging at record high, hence, encouraging more entrepreneurs into investing and developing more luxury hotels to accommodate the rising number of tourists. Many constructions were scheduled for completion by 2020, but the COVID outbreak has caused several projects to be delayed. Once COVID is well behind us, we could witness fierce competition in the tourism sector.
Thai people have already begun travelling domestically ever since the loosening of the lockdown period. Tourism provinces close to the metropolitan area such as Pattaya, Cha Am, Hua Hin are looking lively again after a long time.
New strategy – monthly rental
In making up for loss of revenue, some operators of luxury hotels in Bangkok have offered long-term rental or monthly rental, which is 50% off compared to the rate per night. This would put these hotels directly in competition with serviced apartments and luxury condos in the city. Serviced apartments and luxury condos will be on the lookout for hotels which offer far more superior services; cleaning, electricity, drinking water and etc.
Perfect time to catch a break and renovate
Additionally, some hotels use this as an opportunity to close down operations temporarily in order to renovate and upgrade hotels, getting prepared for the post-COVID period in which foreign tourists are expected to come flooding into Thailand.
In terms of property valuation, we only view COVID as a temporary concern that would not affect the property value in the long run. For hotels' operators wishing to learn the rental and appraisal value in order to request credit for improvement or extension of the hotels, visit Prospec Appraisal. We are here to help!
Source: Prachachat