Today, Invest:MaN will take the fellow real estate investors to explore the opportunity in making with the upcoming development of the mega transit project. Those who wish to swap cash on hand into long-term real estate property must keep close update on this hot topic. Hence, we consider this scoop as a kickoff to this project. 
High-speed rail project connecting three airports, from Suvarnabhumi International to U-Tapao Airport, a recent public's interest. At present, the Royal Declaration Decree of Expropriation for State Land Ownership has already been issued as a pre-approval of a go-ahead of the project. We, as an investor, can begin analyzing the investment potential within the subject areas. The idea of investing on low today in anticipation of a higher selling price when the project completes for capital gain is definitely very appealing. We will continue to update how the values of land in regions fluctuates, starting from the construction phase, the project's completion until the official launch. We will try to analyze the potential investment on each of the rail stations which consist of:
Chachoengsao Station

Chonburi Station

Sriracha Station

Pattaya Station

U-Tapao Station

Rayong Station (to be confirmed)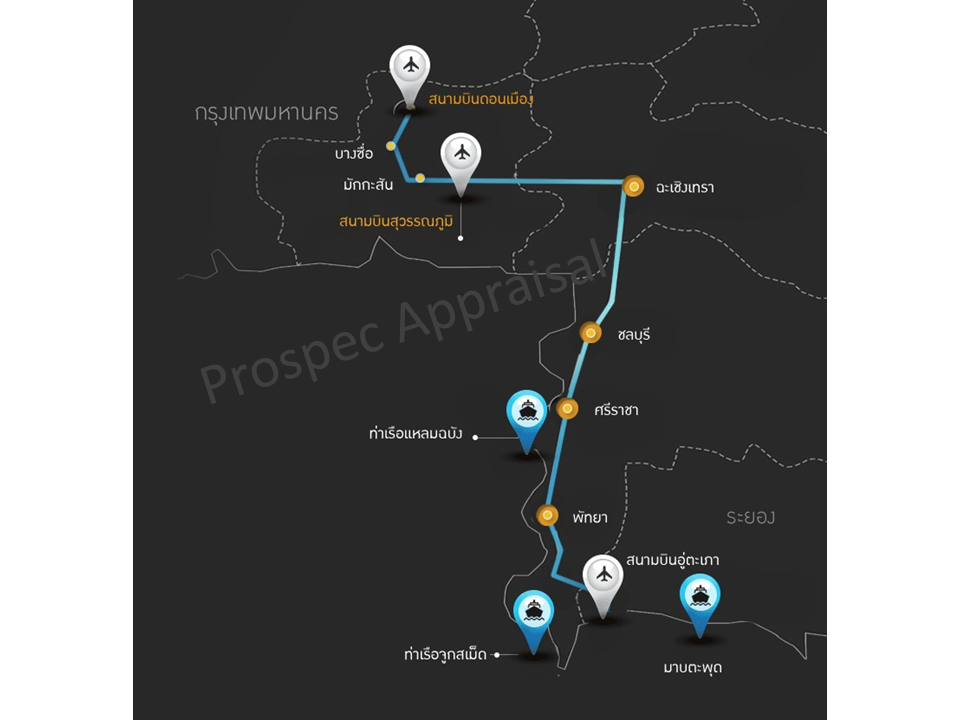 Credit : EEC
              Some interesting features of this project includes the development of area around the train stations such as Chachoengsao Station which will serve as an intersection connecting the Isan – Kaeng Khoi Railway and the Eastern Line – Aranyaprathet and also the location of Sriracha station that is close to Laem Chabang Port. In addition, there are also related EEC projects such as the expansion and development of the Laem Chabang Port and the U-Tapao Airport respectively. With the intention of being the aviation center in the east of Thailand, the airport development consists of terminal expansion to accommodate more passengers, runways, and a large aircraft maintenance center. Hence, this project is considered to be mega size in terms of impact it will have on various sectors.
             We will only cover lands within approximately 1 kilometer radius of each station in our analysis which include the present land usage, legal regulations, city planning & color zoning and potential highest & best use. Our team of professionals will explore and present to you the market price of land offered for sale within the area. Nevertheless, investors are always advised to conduct their own due diligence for investment purposes. Normally, Invest:MaN will try to look for value for money property, possibly results of property auction, non-performing/distress asset. Stay tuned for the analysis of the first station, Chachoengsao!
Follow Invest:MaN, not to miss out on hot-topic of interest for real estate investors.